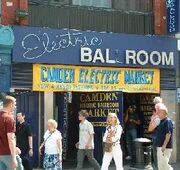 The Electric Ballroom has existed in Camden Town, north London for over sixty years. The establishment has served as a venue for many rock bands through the years. On weekends the building has an indoor market with about fifty stalls selling a variety of fashionable, lifestyle and music related goods. The two main club nights are Sin City (formerly full tilt, however, the two events are ran by different companies), playing rock, and alternative genres on a Friday night, while Shake plays mostly pop and dance from the 70's onwards on a Saturday.
It was proposed to demolish the Electric Ballroom in order to allow the redevelopment of Camden Town tube station, but the planning application for the redevelopment was rejected by Camden Borough Council in 2004. A revised proposal from Transport for London in 2005 to demolish the whole block including Ballroom, Buck Street Market and the Dr Martens flagship store was rejected by Deputy Prime Minister John Prescott which has allowed the Electric Ballroom to continue to thrive.
External links
Edit
Community content is available under
CC-BY-SA
unless otherwise noted.