A nightclub (often shortened to club) is an entertainment venue which does its primary business after dark. In most other languages, night clubs are referred to as "discos" or "discothèques" (French: discothèque; German: Disko; Japanese: ディスコ, disuko or クラブ, kurabu).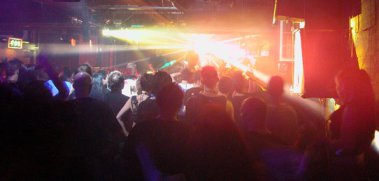 Nightclubs are always associated with music and have a dance floor, however small: a drinking establishment without music is a saloon or bar, pub or tavern. Though a nightclub may have a floor show or other entertainment unsuitable for minors, the music, dancing and socializing of a nightclub are secondary in a "strip joint". Music may be live or mixed by a DJ, and can range from blues, country, disco, hip-hop, jazz and rock, to electronic music styles such as drum and bass, house, trance or techno.
Gatherings in nightclubs that primarily involve music mixed by a DJ involve dancing and in most cases alcohol. Illegal use of recreational drugs such as ecstasy are commonplace in many modern clubs featuring electronic dance music. Clubs are often advertised by the handing out of flyers on the street, in record shops, and at other clubs and events, they are often highly decorative and eye-catching.
Nightclubs often feature lighting and other effects: flashing lights of many colors, moving light beams and smoke machines. One common item is a disco ball: a rotating football-sized spheroid at the ceiling, covered with many small flat mirrors, with a light beam directed on it; the reflections form a multitude of moving light spots on the floor and on the people. Some nightclubs will throw foam parties where the dance floor is filled with soap suds.
From time to time, variations enter the market, such as non-smoking and alcohol free nightclubs. Also, restaurants or supper clubs may provide music and entertainment simlar to that provided by a nightclub, the main difference being that food is the main attraction at these establishments, whereas entertainment is the main attraction at a nightclub.
In the U.S., the repeal of Prohibition in February 1933 sparked the revival of nightclubs, which had gone underground as speakeasies. In New York City, three famous Midtown nightclubs from the "Golden Age" were the Stork Club, El Morocco and the Copacabana, while uptown in Harlem the Cotton Club was king.
Before 1953 and even some years thereafter, most speakeasies bars and nightclubs used jukebox or mostly live bands but then in a Paris club named 'Whisky-a-Gogo', Regine Zylberberg laid down a dance-floor, suspended coloured lights and for the first time ever replaced the juke-box with two turntables so there would be no breaks between the music. Setting into place the standards elements of the discothèque (French for Nightclubs) as known in it's modern form.
The first rock and roll generation did not favor nightclubs, but the club returned in the 1970s as the "disco," from the French discothèque (although by the early 2000s, the term "disco" had largely fallen out of favor in North America). Two early discos in New York were "Le Club" and "Regine's." Today in Europe, nightclubs play techno, house music or any sort of dance music from nu-jazz to electro or trance for the most part. Some nightclubs in the U.S. play trance and techno, but it is still not as popular.
External links
Edit