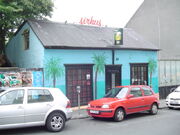 Reykjavík, the capital of Iceland, is often dubbed "the nightlife capital of the north." It is famous for its nightlife during the weekends. Icelanders tend to go out late so bars that look rather quiet can fill up suddenly, usually around midnight on a weekend. In fact, the entire town center often fills up rather suddenly after midnight.
One of the main causes for this is that alcohol is very expensive at bars, so people tend to drink at home before going out. Beer was banned in Iceland until 1 March 1989, but has since become Icelanders' drink of choice. However, like other alcoholic beverages, it is still quite expensive; a pint of beer in an Icelandic bar can cost between 350 to 800 Icelandic Króna, or from 4 to 9 Euros. To this end, most people show up late and are already drunk when they arrive at the bars downtown.
There are over 100 different bars and clubs in Reykjavík; most of them are located on Laugavegur and its side streets. It is very common for an establishment that is a café before dinner to turn into a bar in the evening. Closing time is usually around three to five a.m. on weekends and one a.m. during the week.
A running joke amongst natives is when they are asked of Icelandic nightlife by a tourist, they coyly answer: What is a nightlife?
Related pages
Edit
External links
Edit